Oceans - How it Works
Cleaning up the garbage patches
Over
5 trillion pieces

of plastic currently litter the ocean

Trash accumulates in five ocean garbage patches, the largest one being the Great Pacific Garbage Patch, located between Hawaii and California. To solve it, we not only need to stop more plastic from flowing into the ocean, but also clean up what is already out there. Floating plastics trapped in the patches will keep circulating until they break down into smaller and smaller pieces, becoming harder to clean up and increasingly easier to mistake for food by sealife. If left to circulate, the plastic will impact our ecosystems, health, and economies for decades or even centuries.
Cleaning

the ocean garbage patches

The fundamental challenge of cleaning up the ocean garbage patches is that the plastic pollution is highly diluted, spanning millions of square kilometers. Our cleanup solution is designed to first concentrate the plastic, allowing us to effectively collect and remove vast quantities. This is how it works:
CREATING AN
ARTIFICIAL COASTLINE
To clean an area of this size, a strategic and energy-efficient solution is required. With a relative speed difference maintained between the cleanup system and the plastic, we create artificial coastlines, where there are none, to concentrate the plastic. The system is comprised of a long U-shaped barrier that guides the plastic into a retention zone at its far end. Through active propulsion, we maintain a slow forward speed with the system.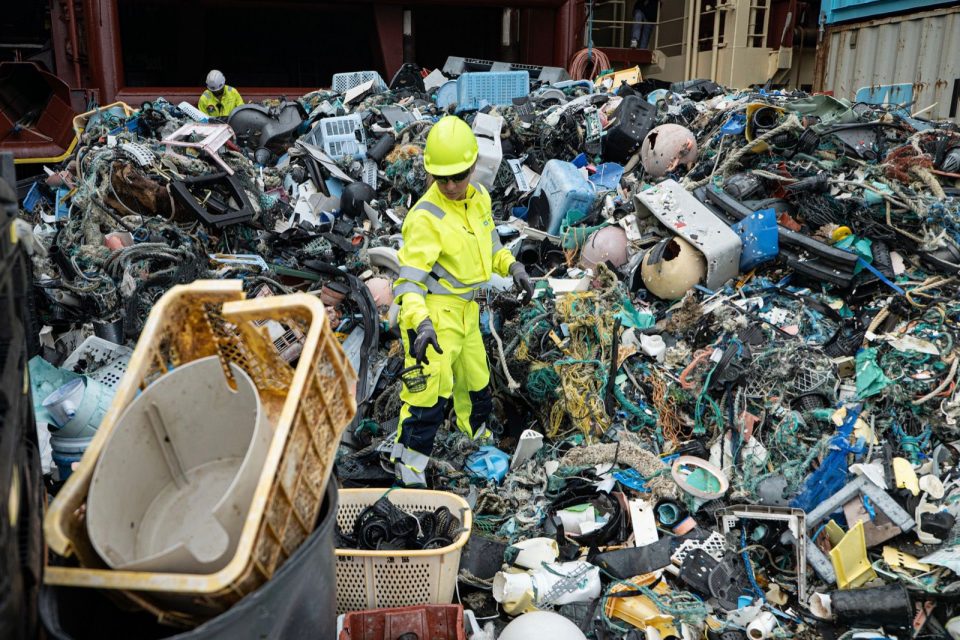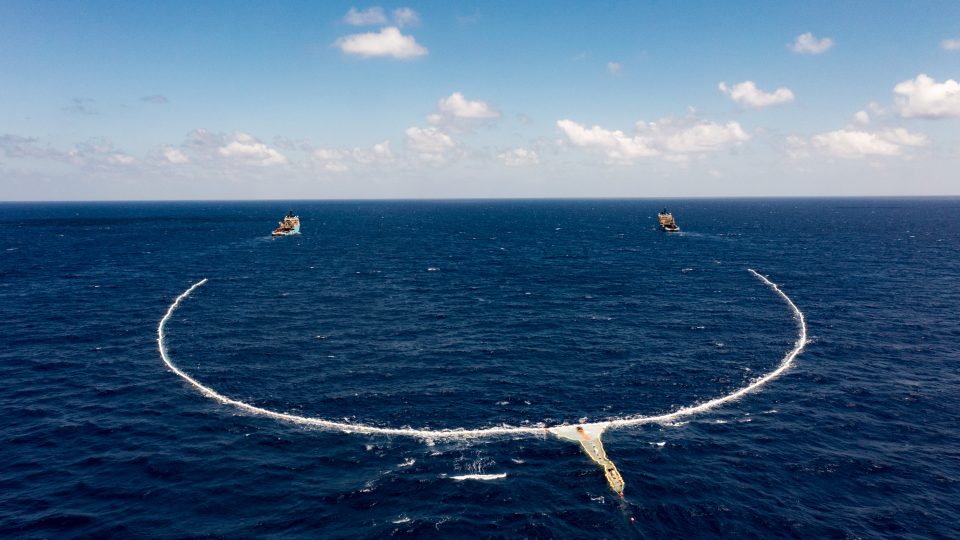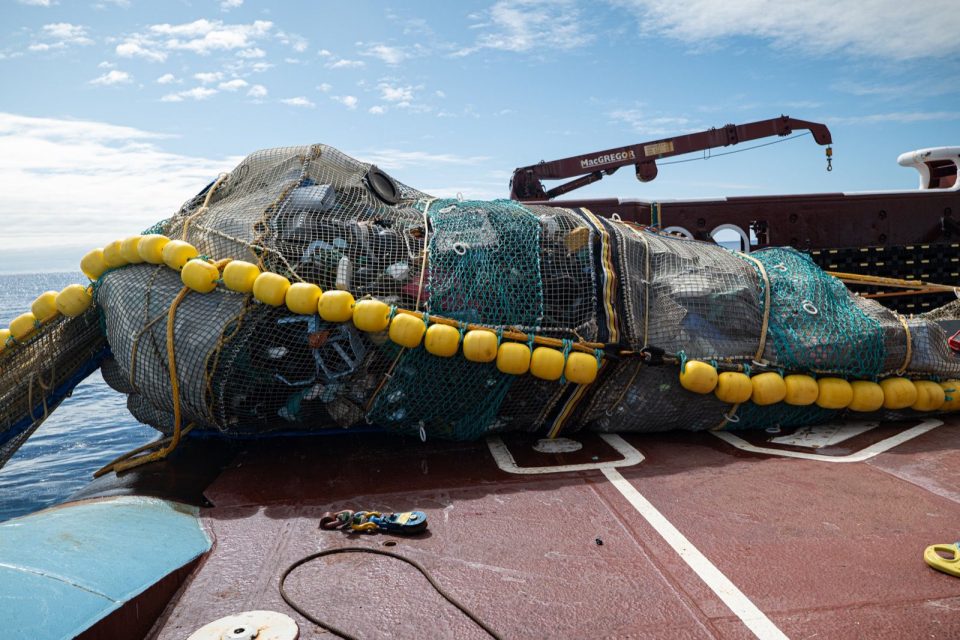 How it works
Target
The circulating currents in the garbage patch move the plastic around, creating natural ever-shifting hotspots of higher concentration. With the help of computational modeling, we predict where these hotspots are and place the cleanup systems in these areas.
Expected
impact
Our floating systems are designed to capture plastics ranging from small pieces, just millimeters in size, up to large debris, including massive, discarded fishing nets (ghost nets), which can be tens of meters wide.
Modeling predicts we need around 10 full-size systems to clean up the Great Pacific Garbage Patch.
After fleets of systems are deployed into every ocean gyre, combined with source reduction, The Ocean Cleanup projects to be able to remove 90% of floating ocean plastic by 2040.
Smart steering

Active steering and computer modeling enable us to target plastic hotspots -areas of higher concentration- to improve efficiency. Our models will be steadily improved using field data collected during our offshore missions, allowing for continually smarter operations and more focused cleanup.

Carbon neutral

We aim to offset all carbon emissions from the System 002 campaign. In addition, in collaboration with Maersk, we are experimenting with low-carbon fuels for our support vessels.

Scalable

By taking a careful step-by-step approach, the modular fleet of systems can be gradually scaled up while we learn from the field and improve the technology along the way. The more systems deployed, the faster the cleanup will be.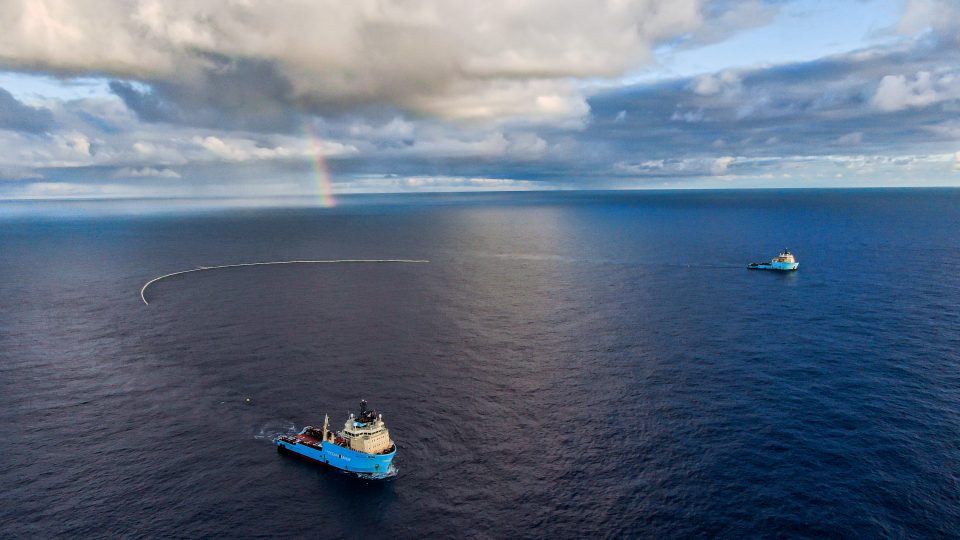 System 002
On October 20th, we announced that we have reached proof of technology with System 002. This system will continue to harvest plastic in the Great Pacific Garbage Patch, and in tandem with this, we will work on System 003 - an upscaled version aimed at being the blueprint for scale-up.
The system at
sea
MANAGING ENVIRONMENTAL IMPACT
The main reason we clean up plastic is to reduce its negative impact on sea life and protect the ocean. But as with any operation, there is always some risk involved. While conducting cleanup, we must ensure that we limit any adverse effects of our operations on the environment.
During our first mission with Systems 001 and 001/B, no substantial interference with the surrounding ecosystem and/or marine life was observed. When designing System 002, we incorporated the insights from previous campaigns and had close internal and external feedback loops to limit potential negative impacts. We have also conducted an independent Environmental Impact Assessment (EIA) for System 002, CSA Ocean Sciences, which did not identify any major risks of our method to the environment, provided we maintain close monitoring of our operations.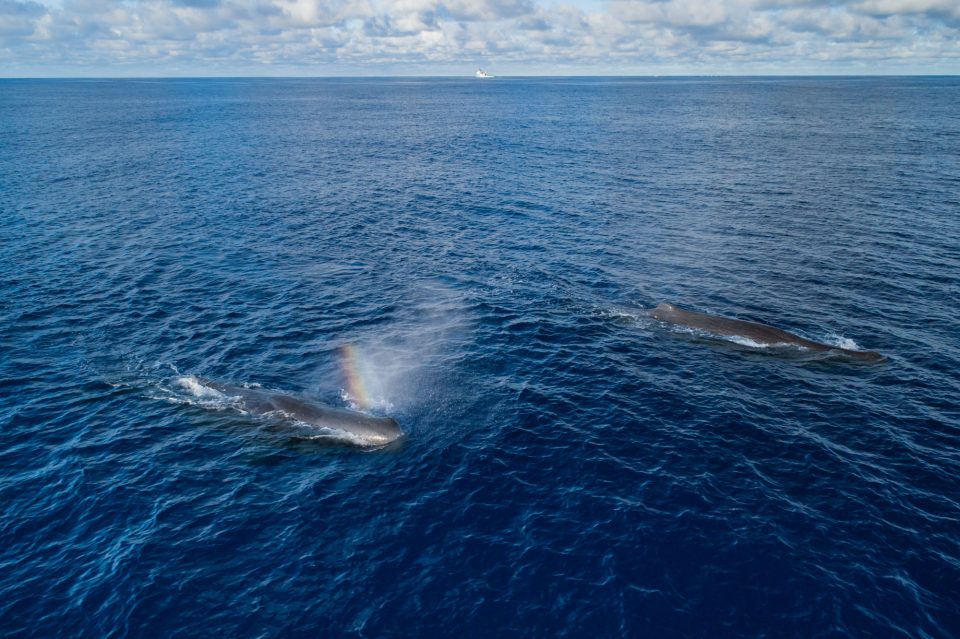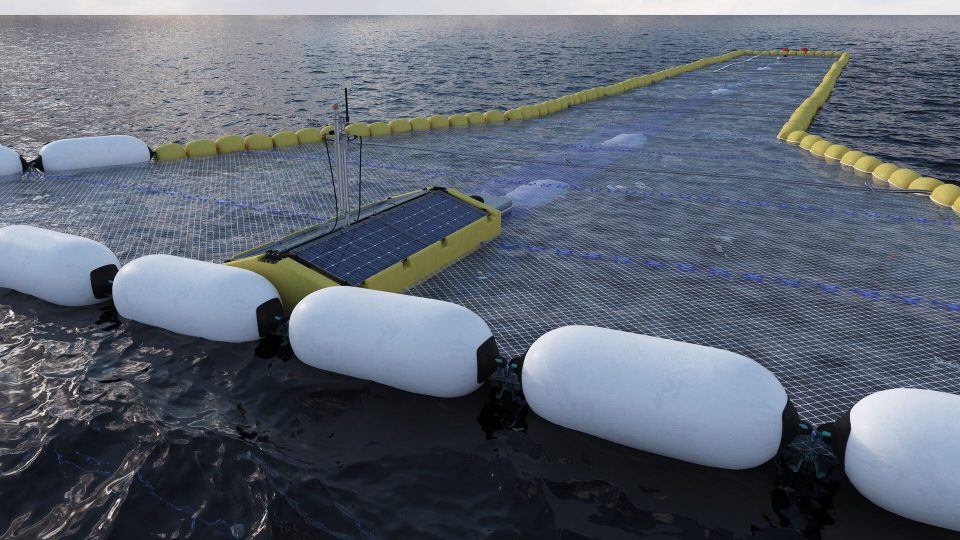 As we continue to learn more about the technology and the behaviors of the Great Pacific Garbage Patch, we have trained observers on board the System 002 mission to monitor how this new system interacts with the natural environment. We are also committed to offsetting all carbon emissions associated with the System 002 campaign. For more about our approach to topics like these, see our Environment page.
SURVIVING STORMS
Because the cleanup systems are meant to stay in the patch for long periods, it is crucial that our systems can withstand ocean forces. We are closely monitoring the loads on the system and adapting the speed and span in the case of rough seas. We also follow the latest weather forecasts and plan the trajectory to avoid storms, and by understanding the patch climate, we can conduct operations in less critical locations. In the case of a particularly severe storm, the system can be temporarily withdrawn from activity.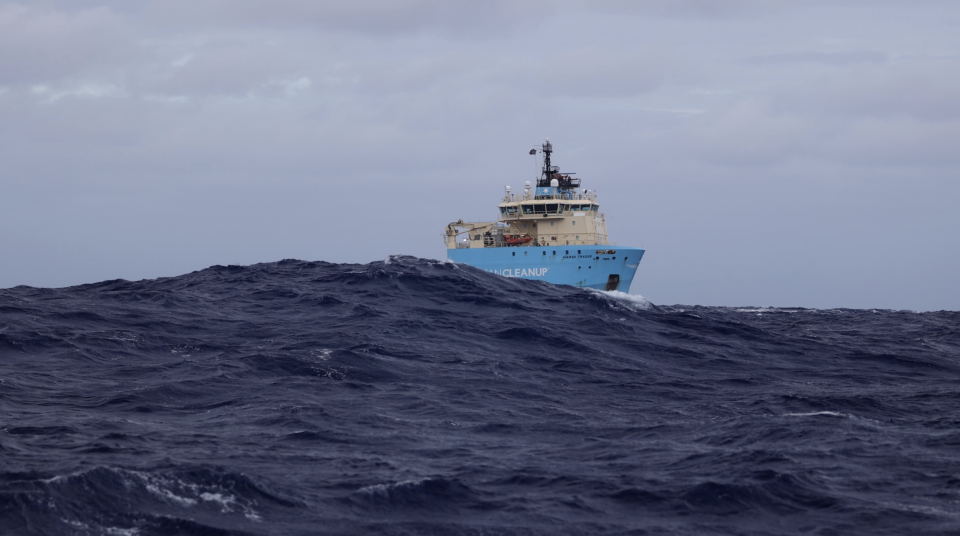 Fund

future cleanup systems

Having the necessary funds, we deployed System 002 into the Great Pacific Garbage in July 2021. As we progress towards System 003 and onward, we welcome individuals and companies to join the mission. If you would like more information on how to make a major contribution to help us scale to a fleet of cleanup systems, please contact us.
Technology
Roadmap
Following our iterative design principle, we have been able to adapt and update our technology with every offshore deployment. From System 001 to System 001/B to System 002, we have confirmed various principles and concepts behind our ocean cleanup technology. The latest iteration, System 002, is our most effective to date, which led to proof of technology, as announced in October. With this system, we can effectively capture and harvest ocean plastic with a scalable design. With System 002, we are now rounding out the Development Phase and nearing the Validation Phase of our Ocean project. We will continue operations in the Great Pacific Garbage Patch to capture more plastic and gather more insights during the harsher winter sea-state. In parallel, we will start working on System 003. This iteration will incorporate modifications to the system's hardware and will be three times the size of System 002, allowing us to collect even more plastic. System 003 will serve as the blueprint for scale-up – we estimate to need a fleet of 10 systems in the Great Pacific Garbage Patch to effectively clean it up.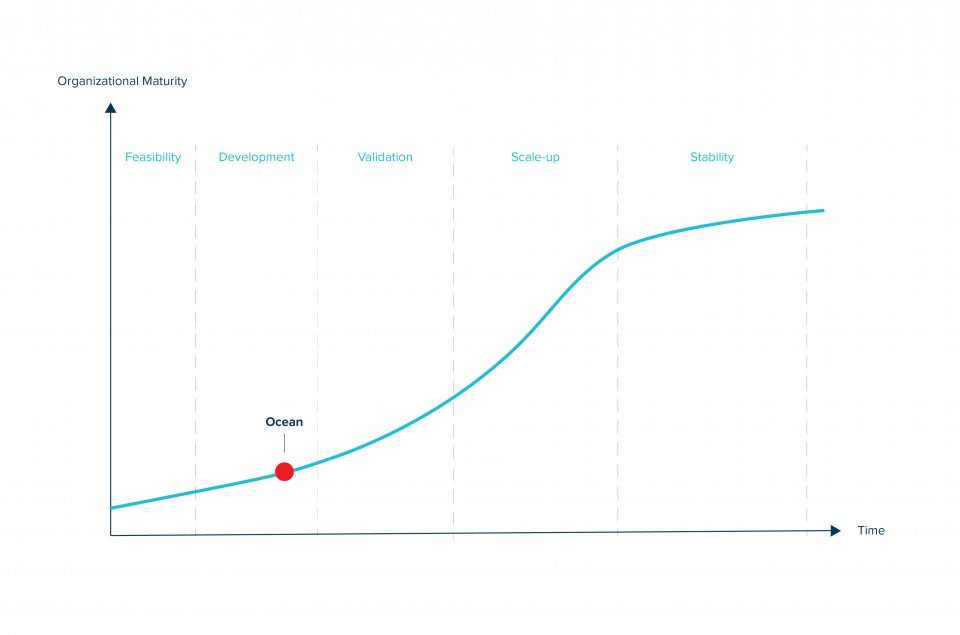 The
evolution

of The Ocean Cleanup concept
2012

The original sketch

It all started after a holiday in Greece. A plastic-filled diving trip inspired the passive concentration system. Why go after the plastic, if the plastic can come to you?

2013

The Manta

The first public concept, presented in a TEDx talk that went viral in 2013. An array of long floating barriers and manta ray-shaped stations would be anchored to the seabed to collect the plastic.

2014

Anchored to the seabed

A refined version of the anchored barrier concept was presented following the completion of the feasibility study in 2014. A single spar buoy was suggested as a collection mechanism.

2017

The Sea Anchor

In 2017 we unveiled our transition from one giant, fixed system to a fleet of much smaller, free-floating systems. The plan was to suspend a sea anchor in a deep-water layer with virtually no current, which would slow down the systems and allow the plastic to accumulate against the barriers.

2018

Wind and Wave Powered

To further simplify the concept, we removed the drift anchors to instead rely on the wind and wave drift loads as the driving force behind the cleanup systems. This became the initial design for System 001. After four months of deployment, System 001 returned to shore, allowing us to adapt the technology further.

2019

System 001/B Test Campaign

In less than four months, we designed, procured, and assembled System 001/B. In June of 2019, this system was deployed into the Great Pacific Garbage Patch. We were able to achieve a constant speed difference with the plastic – a crucial requirement for catching and retaining it for an extended period of time.

2021

System 002 - Active approach

In order to effectively clean up the oceans as soon as possible, we trialed an active design with System 002, rather than a fully passive wind/wave/current-driven approach, to create sufficient speed difference between the plastic and the system and to be able to move through the patch quicker (and thus catch more) than in the slow-down version. System 002 has now lead us to proof of technology.
Join


the team

Contribute your skills and build a clean future with us
Support


the cleanup

Help fund the development of our technology to rid the world's oceans of plastic.